It's V Day and I want to give you a present as a thank you for supporting Marc and me as we create Life Dreaming.
I created this lovely sheet all by myself without any help from the design genius of this partnership – my brother Marc.
It's a short and sharp way for me (and you) to hold all the fab things you want to be and do in your life this year.
You'll notice that my sheet has a lot of words at the top – that's my passion and purpose stuff – words that are about how I am in the world.
In the hearts I put a key word at the top and then the core actions I will take to make it happen.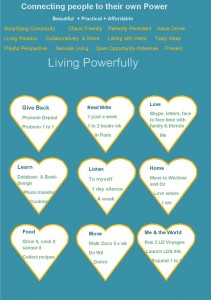 I'm creating a great journal that will hold all the action stuff across a year/months/weeks and days and Marc will make it beautiful with his genius design. They will be available sometime this year to our Life Dreamers.
3 BIG things re: Life Dreaming this year:
Marc will be writing a post once a week. I adore his perspective on life and his writing is wonderful. I'll be writing a post as well – sometimes in response to what brother dear has written and more often it'll be on a topic that is completely random.
I'm organising a Luxury Life Dreaming Voyage for May/June in the Dylan Hotel Dublin for 6 women. This will be 1 day of pure pleasure with very practical results. Women will be able to rise above the day to day and really take time to reflect and plan what's important in their lives right now. There's a gift bag with hand made wool wraps and chocolates and perfume – and all the Life Dreaming activity sheets and materials and lunch and a cocktail at the end of the day. I'm also organising 20 minute shiatsu treatments for each woman and there will be other treats on the day.
Marc and I are working towards a late April [ish] launch of the Life Dreaming site and online Life Dreaming Expedition. I can't even begin to say how wonderful the launch day will be – and there will be gifts for our loyal Life Dreamers.
For now, download the sheet and dream/action away.
Let me know what you think of it and let your friends and family know about Life Dreaming – Share us on your Facebook page.
Take good care
Liz