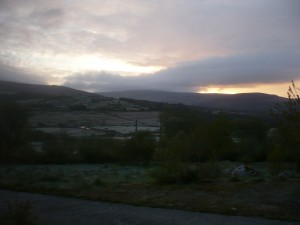 Today is my Celebration & Play Day.
On June 16 1993 I stepped off the plane in Dublin after a 40 hour journey from Perth West Australia.
In the 19 years since I have been asked about 20,000 times why I came to Ireland and then – why I stayed.
Every year I do a big Life Dreaming of my own and 1992 was no different.
I did the Life Dreaming Web activity and realised that I had a bloody brilliant life but I was geographically challenged! While I had worked in nearly every Shire in WA I had lived there without any travel since I was 7.
It was time to rattle my own cage – something I do a lot!
I used all my Life Dreaming activities and was very clear about what I wasn't when it came to travel.
I'm not that woman who happily sits on the bus for 2 days packed closely with people and chickens!
I was clear about what I did want – to see if my skills earned over 10 years of community and strategic planning work would transfer internationally [they did!]
My parents are both Irish and I was curious to see the country where they were born and raised – and get a sense of how that culture helped make them who they were.
So, Ireland it was and I spent the next year sorting out what I needed to do to get there. I took  a years unpaid leave from my part time job. I didn't want to burn my bridges if I didn't like Ireland or travel [I resigned 6 months into my stay in Ireland as I knew I was hooked].
On June 15 1993  I left on my first international flight travelling business class one way for the first and only time in my life. I had decided that my first international flight should be done in style and comfort.
What follows below is an email I sent Marc at 5 am this morning. I think it says it all.
The sun is slowly rising on my 19 year in Ireland.
Cat woke me at 5am which is fine as I fell asleep just after 9pm and I seemed to be in a dream loop that was going nowhere.
Funny how looking back 34 seems so young!!
I feel like I grew up here as an adult and I've had some amazing opportunities to meet and work with people all over Ireland from all walks of life.
I can say that my work has made a difference for the better in some organisations and definitely in the homeless sector in Dublin and Galway. And I had a pretty good impact on individual artists and some amazing arts in community projects. Not a bad legacy.
I've made some great friends and left quite a few behind as I moved from place to place. There have been some fantastic social gatherings and much conversation and laughter and wine and food – that makes the sensual and social part of me very happy.
I've been to London. Paris. Scotland, Brussels, Stockholm, New York, Boston, Akron and enjoyed my wanderings in all those places. I found out that I love city breaks and am happy to go alone – which is just as well.
I deepened my connection and love of nature and even started the Sunny Funny Garden and have developed a real interest in growing food and flowers and herbs. I adore the Irish landscape in all it's beauty and it has a permanent place in my soul and memory.
I've probably seen and worked in more places around Ireland than most Irish!
I've become more and more comfortable and delighted in my own company and solitude is a delight for me. I can honestly say that I really love who I am – dark and light.
And over the last few years I've been in a kind of awe of how I deal with financial poverty – I have a resilience and creativity that has surprised me. I also want to move away from that space into financial abundance.
The recession has been a weird kind of gift as it has totally decimated my consultancy and moved me into spaces I'm not sure I'd have gone if I had financial security.
And you dear brother have been a consistent, and over the last 5 years or so a persistent, support and energiser. We wouldn't have created the Life Dreaming Expedition without your gentle suggestion [and that was the day after you'd encouraged me to give away the first workbook for free!] ' how about you expand each of those sections into meatier chapters?'.
I have loved creating Life Dreaming with you Marc. You're one of the few people in my life who gently [but persistently] challenges me to be and do better. You seem to see me capable of a bigger reach – and then so do I. You're design genius has been a great source of delight and fun.
I LOVE seeing your name in my inbox even when you sigh at me!
You are one of the fab constants in my life – and there aren't a lot. I thank you with great love and deep respect.
Today I will celebrate and take time to remember my years here because it's getting on time to say goodbye to Ireland.
It's been a brilliant adventure and I can't wait for more.
Thank you Marc for being such a big part of that adventure.
I want to send my love to all the people I have met over the 19 years. You have inspired and delighted me.
My Celebration/Play Day will involve some lovely food, a riverwalk with Cocodog, and bubbles somewhere around Whenever O'Clock. I'm going to let memories wander and new dreams begin.
Thank you Ireland for being such a mad, bad, fabulous adventure.
xxxxx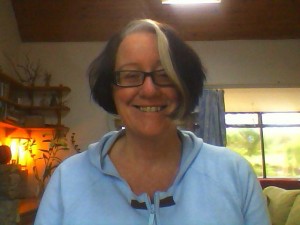 not bad for early morning with no make up and 52 years and 10 months on the clock!
Feel free to share